Jon Ossoff
Having emerged victorious in his high-profile Senate run-off race, this 33 year-old Georgia native is the youngest person elected to the Senate since President Joe Biden back in 1973.
Exit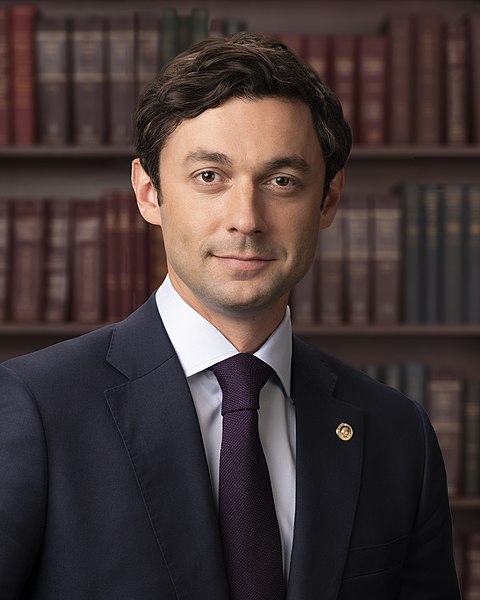 Who are they?
Having emerged victorious in his high-profile Senate run-off race, this 33 year-old Georgia native is the youngest person elected to the Senate since President Joe Biden back in 1973.
Pre-Congress?
After undergrad at Georgetown University and receiving his Masters at the London School of Economics, Jon ran a media production company that produced documentaries investigating corruption and war crimes for international news organizations. He returned stateside and worked as a national security aide for Georgia Congressman Hank Johnson before running unsuccessfully in a special election for Georgia's Sixth Congressional District seat. Though he lost that race, it gained him national attention, aiding in his eventual run for Senate.
Latest Headlines
01.31.2022
Mentored by civil rights legend Congressman John Lewis, Jon previously worked as a national security aide in Congress. We're sure you remember the high-profile Georgia Senate Runoff races back in early 2021! Jon gained national attention with his victory, becoming the youngest person elected to the Senate since Joe Biden back in 1973.
01.13.2022
Trade Ya For It
One thing we always like to see from young politicians is throwing a wrench into something that really gets under the skin of many senior/established members. And Jon is not afraid to take up that mantle when it comes to stock trading. He just introduced legislation that would bar members of Congress from holding or trading individual stocks while they're in elected office. He, himself, voluntarily put his financial assets into a blind trust when he was elected. While Jon waits for a Republican co-sponsor, which is likely, he's definitely poking at Speaker Pelosi who publicly rejected the idea that members should be blocked from trading. She's also worth an estimated $46 million…
12.29.2021
Jon's 2021 Roundup!
Jon, the youngest member of the Senate, spent his 2021 working on voting rights. After the Georgia state legislature voted to limit ballot access, John wasn't happy and said the new laws will make absentee voting more restrictive, potentially confuse voters, and give more power to Republican lawmakers. Jon and other Democratic senators introduced the Right to Vote Act, which establishes the first-ever statutory right to vote in federal elections— protecting U.S. citizens from laws that make it harder to cast a ballot.
12.16.2021
Big Push For Pregnant Workers
No, not that kind of push; a different push towards safer and fairer working conditions for women who are carrying while in the workforce. Jon is helping to lead the charge to pass the Pregnant Workers Fairness Act, which looks to protect pregnant workers from discrimination in the workplace, particularly around accommodations and conditions. The bipartisan bill would allow access to food and water where otherwise prohibited, the ability to sit while otherwise standing, and access to more breaks as needed. It's hard to fathom that these things might actually be withheld from a pregnant worker in this Country, but alas, here we are debating its legislation. Thanks to Jon, hopefully we won't have too much longer.
12.02.2021
Train the Future
Love to hear about more JOBS. Jon teamed up with Republican Senator Tim Scott to prepare HBCU (Historically Black Colleges and Universities) students for job opportunities in the national security field. The bipartisan HBCU National Security Innovation Act will connect HBCU students with national security programs in the defense industry and private sector to prepare them for competitive jobs. Jon has been a champion for HBCU's and delivered $250+ million to Georgia's HBCU's. On top of this, Jon is also working to pass his bipartisan Cybersecurity Opportunity act which would expand cybersecurity training programs at HCBU's. Love to see this support for HBCU students.
MORE
Core Issues
Alternative/Renewable Energy
Expand the ACA (Obamacare)
Pro-Choice
Next Candidate
Julia Letlow
41, Louisiana — 5, R