Elise Stefanik
The youngest Republican woman ever elected to Congress who serves as the co-chair of the Tuesday Group, a caucus of moderate Republicans looking to work across the aisle to advance policy solutions.
Exit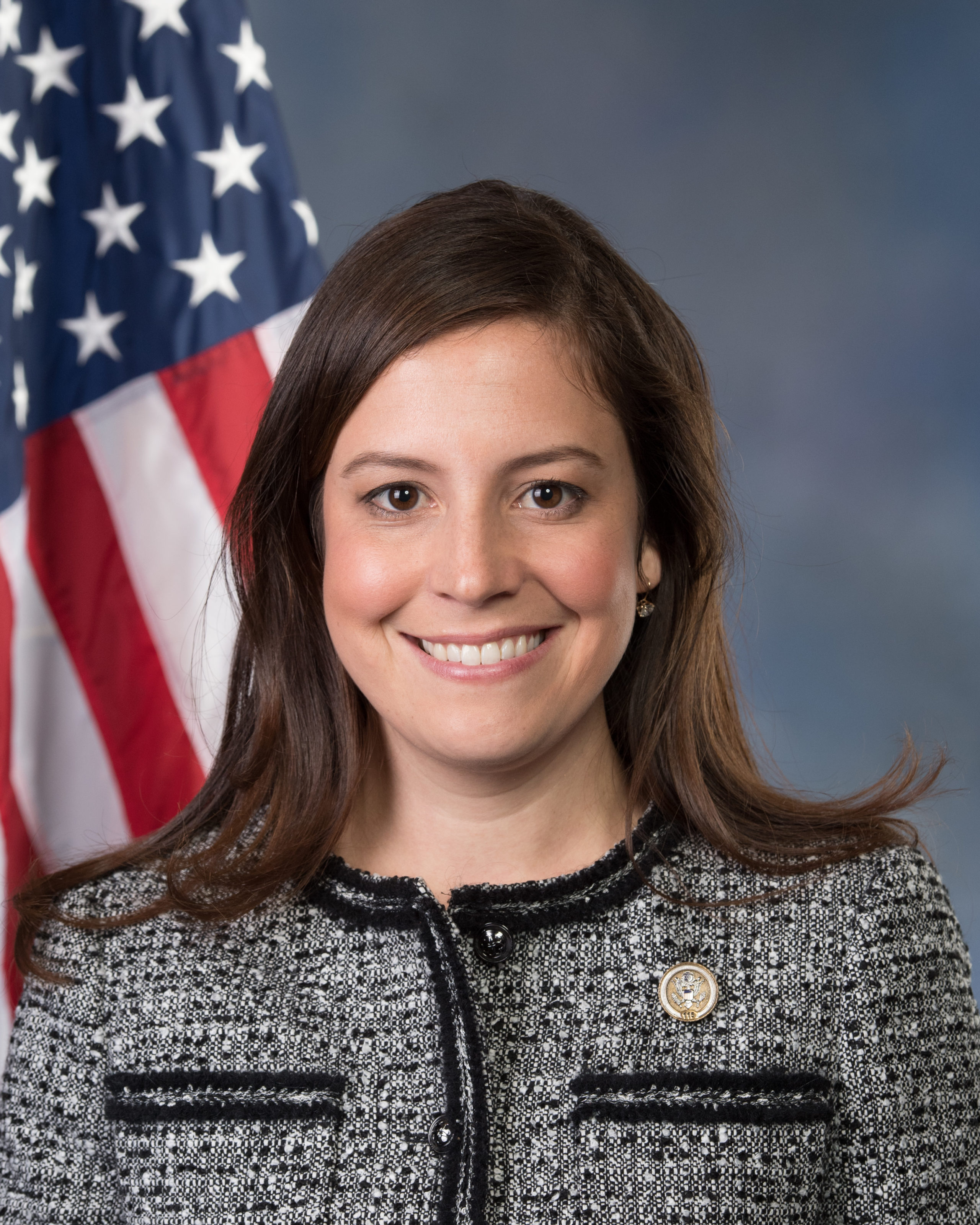 EliseStefanik
37, New York — 21, R
Who are they?
The youngest Republican woman ever elected to Congress who, in 2021, was appointed the number 3 position in the House GOP. That new position didn't come without complications as she balanced party priorities with policy-making, but she still found time to fight for children and rural communities.
Pre-Congress?
Elise worked in the Bush administration on the Domestic Policy Council and for the office of the White House Chief of Staff. Before being elected to Congress, Elise worked at her family's small business, Premium Plywood, founded in Upstate New York over twenty years ago.
Latest Headlines
01.31.2022
While we're 'under construction', a quick reminder of who Elise is! She was the youngest Republican woman ever elected to Congress and last year assumed the 3rd position in the House GOP. As her star has risen, she has not gone without controversy and criticism, but has remained true to her roots, fighting for the rural communities and children she represents.
01.13.2022
Milk Fights
Oh Ca-NA-DA…shame on you. Elise was part of a bipartisan group of colleagues that helped settle a dispute between the U.S. and Canada. The United States-Mexico-Canada Agreement (USMCA) panel ruled in favor of the U.S. that Canada is breaching its commitments under the USMCA by unfairly administering dairy tariff-rate quotas in a way that harms American dairy farmers. Now U.S. dairy farmers will have access to the Canadian dairy market after suffering from restrictions. Who knew milk could cause so much drama!
12.29.2021
Elise's 2021 Roundup!
Elise worked on a lot this year as the GOP's No. 3 leader in the House but was specifically focused on issues impacting children and families. Elise introduced the Family Child Care Networks Act, which would allow states to repurpose funds from the American Rescue Plan and use them to establish Family Child Care Networks. Last year, Elise teamed up with fellow PP leader Josh Harder and secured $10 million in grants for education in rural communities. Recently, they wrote to Secretary of Education Cardona to release the funds for the grants ASAP. Rural students have faced unique challenges throughout the pandemic and these grants will without a doubt spur innovation, improve access to higher education, and prepare students for credentials to step into high-demand jobs.
12.16.2021
Mad Skillz
A 2014 law provides career services and upskilling opportunities for adults and displaced workers. However, given the current hiring crisis in the U.S., Elise was concerned with the low number of participants in that career program (only about 125k workers exit the program each year). She introduced the Employer-Directed Skills Act which would allow job creators to determine the skills their workforce needs and streamline the process for workers to access skill development in those areas. On last week's episode of our Happy Hour podcast, restaurant-owner Bobby Kronfli addressed his own hiring difficulties so this proposed bill feels particularly topical to us!
12.02.2021
Protect The O.R.
Elise knows the financial challenges many rural hospitals face particularly when it comes to prescription drug affordability. That's why she's introduced bipartisan legislation which looks to protect hospitals from losing eligibility for the 340B drug pricing program. This program requires pharmaceutical companies to provide drugs at discounted prices to certain designated hospitals—often ones in rural areas facing financial hardships. Covid has only magnified this problem, and by extending and protecting their eligibility, they can continue to carry on the lifesaving work that they do—literally!
MORE
Core Issues
Government Deregulation
Higher Education/Student Debt
Repeal and Replace the ACA (Obamacare)
Next Candidate
Abigail Spanberger
42, Virginia — 7, D